Become a Partner
Commit to Authentically Engage Hispanics Toward Healthy Living
Elevate your awareness
Become one of the charter partners to elevate awareness amongst medical institutions, pharmaceutical companies,retail-healthcare and consumer brands about authentically engaging Hispanics to lead healthier lives.
1. Job Postings
Up to 25 "branded" job postings per month with full applicant access, featuring video and photo placements in the job section of the Career Center for 12 months .
2. Digital Advertising and Marketing
2 banner ads will be designed and prominently featured in the Career Center - Jobs, Mentors, and Events sections for 12 months
Prominently featured logo placement in support of Course Curriculum on the Training Center for 12 months
Weekly social media communications that will promote your company profile, mentor profile and job postings pages via Twitter, Facebook and LinkedIn platforms for 12 months
3. Research
Featured Sponsor in HHL SaludTalk; a grass-roots, video-based research project focused on gathering learnings from Hispanics and key influencers to engage Hispanics in preventive care protocols and their desire to pursue a career in healthcare
4. Employer Branding
Company profile page will be custom designed and featured on the Career Center in support of your brand value proposition and desire to solve for the minority workforce development gap
5. Online Training
Access to 100 passwords of the HHL Training Center to support your Hispanic talent recruitment efforts, community outreach and/or corporate social responsibility goals during the first 12 months
6. Personal Branding for Mentors
Support up to 5 employees from your organization to serve as mentors via their own personal brand profile pages that will be custom designed and featured on the Career Center. Each mentor personal brand profile page can feature 1 video, and up to 5 photos per page
7. Public Relations and the Media
2 National press releases that announce our charter partnership featuring hyperlinks to your company and mentor profile pages for optimal media reach and search engine optimization
Company and subject matter expertise mentions in HHL published articles in national business and healthcare publications.
8. Leadership
Invitation for 1 representative from your organization to serve on the Healthy Hispanic Living (HHL) Advisory Board
Contact Sandy Sickler at sandy@healthyhispanicliving.com to learn more about being a sponsor partner, how to post jobs, participate as a mentor and be a content contributor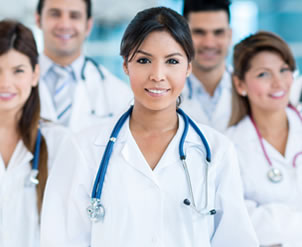 Get involved in leading a time-sensitive conversation about:
Teaching Hispanics to serve as healthy-living advocates for preventive care.
Guiding Hispanics to pursue a career in healthcare so they can play a more influential role in the industry and improve how diverse communities are served.