Hispanic patients and consumers are ready to commit their full potential, purchasing power, trust and loyalty to organizations and brands that are ready to commit to them. They are just waiting for medical institutions, retail-healthcare and pharmaceutical companies, financial and insurance providers and consumer brands to authentically engage with their unique needs and embrace their diversity of thought to cultivate innovation and initiative together.
This represents HHL's brand activation goal: to authentically engage Hispanic patients to embrace the importance of preventive care and self-advocacy in their passionate pursuit of health and wellness -- knowing that success extends well beyond the doctor's office into a broader conversation about healthy living (HHL's Premise).
What does HHL help your brand solve for?
HHL is the healthy-living in-culture marketing and communications platform for brands to solve preventive care challenges for the growing Hispanic patient population.
Historically, Hispanics have not managed their health very well. If there is no course correction, the threat to the U.S. economy and impact on global competitiveness will be catastrophic.
How does HHL help your brand activate solutions?
By leveraging HHL's proven in-culture marketing and communications framework, HHL has the ability to help shape the content narrative for your brand. It engages Hispanic consumers and encourages their active participation to promote self-advocacy, become more health literate and take action to be more accountable for their long-term wellness.
Today, brands have unprecedented opportunities to sell and grow by creating meaningful connections and positive impact with Hispanic consumers and their families. HHL offers brands the opportunity to participate in a platform designed to solve consumer needs while enabling brand engagement.
Brands can participate across the following four brand activation levels:
1. Sponsorship Activation
Rather than solely focusing on compliance efforts, make a genuine commitment by supporting the HHL Premise through sponsorship. Feature your organization's brand value proposition in multiple ways to support your corporate social responsibility, community outreach and sales goals with Hispanic consumers.
Popular engagement offering: HHL Campaign Program (example: Latina Breast Cancer Awareness).
2. Content Activation
Position your organization's brand and its senior leadership as subject matter experts. Guided by HHL, authentically communicate and engage with Hispanic patients and consumers through two-way conversations.
Popular engagement offering: HHL Microsite Program (example: CVS Health).
3. Thought Leadership Activation
Elevate your content engagement into a more experiential thought leadership role by participating in multi-city Tours and Summits. Expand your authentic engagement by building your network and strengthen your ecosystem of resources and intelligence with other organizations whose brands are committed to solve for HHL's Premise.
4. Integrated Consumer/Patient (Shopper) Activation
HHL expands well beyond an in-culture marketing and communications platform to offer integrated consumer/patient (shopper) engagement that consists of marketing channels and tactics customized for each client in collaboration with your organization's marketing team and other key functions.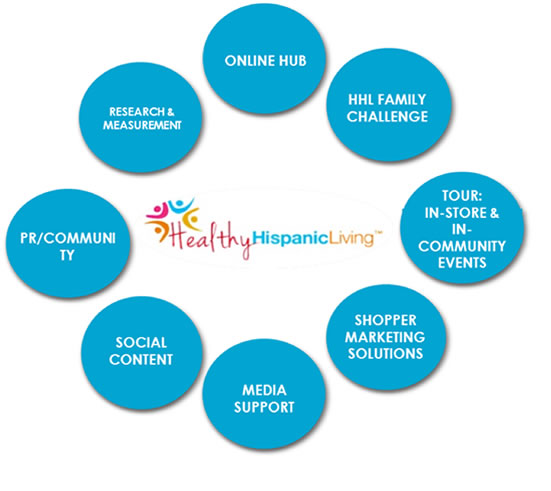 To learn more about our HHL brand activation services, please contact Luis Garcia, Chief Strategy and Brand Activation Officer, at Luis@HealthyHispanicLiving.com or via phone at 210-222-1933.