Making a Mark - How New Biomarkers May Help Vets Predict and Detect Diseases in Pet
05/15/2019 06:00AM | 755 views
By Rena Crumplen
One thing I've observed working with veterinarians in our R&D team is that their role is often like a detective's. When seeking a diagnosis, vets must follow "clues" reported by a pet's owner or handler, or found during a physical examination. They can perform blood or urine tests, x-rays or scans, to gather more clues, but often have to push aside misleading signs or findings. Sometimes it can be hard to distinguish between different health conditions which have similar clinical signs or even similar test results. That's where biomarkers can be very helpful.
Biomarkers, or biological markers, can be measured as indicators of certain diseases. When suspicious that their human patient might have a dangerous blood clot in a vein, doctors will test their blood for a protein fragment called D-dimer, which is released when a clot breaks up. Researchers are even working towards a definitive diagnosis for Alzheimer's disease through the identification of a number of specific molecules in the spinal fluid or blood. Predictive biomarkers are powerful as they can help to quantify the risk of a patient suffering from a health condition in the future. In human medicine, biomarkers can be used to assess the future risk of certain heart problems.
Presented with a patient struggling to breathe, whether human or animal, it's important for the clinician to determine whether the problem stems from the heart, or the airways. In human medicine, blood biomarkers called natriuretic peptides have proved reliable indicators of heart disease and heart failure. Two biomarkers in particular - BNP and NT-proBNP - have been used to diagnose heart failure in the emergency assessment of patients with breathing difficulties, even out-performing the clinical judgment of emergency department physicians when diagnosing acute heart failure. These biomarkers are also used in veterinary medicine, although it's advised they are used alongside – not instead of – traditional methods of diagnosing heart disease and failure. The veterinarian's skill and clinical judgement will always be a crucial part of the diagnostic process.
At Mars Petcare we believe biomarkers have the ability to transform the future of pet healthcare. We're in a unique position to be at the forefront of this research, as a Petcare business with access to decades of historical veterinary clinical records from the hospitals within our Veterinary Health Group and VCA division. When we apply machine learning to these data the results reveal patterns which aren't always visible to humans, at least not without many years of laborious and detailed analysis. We're excited by this big data driven approach to veterinary medicine and we're working with experts in the animal health field to develop new predictive or diagnostic biomarker tests.
Some of our latest biomarker science was recently shared with almost 600 practicing veterinarians from all over the world, at the Royal Canin Vet Symposium in Montpellier, France. Professor Jonathan Elliott from the Royal Veterinary College, London guided delegates through diagnostic options from the past, present and future in his talk on "Early Detection of Chronic Kidney Disease in the Cat".
It's an exciting future ahead for pet health. When used by veterinarians alongside their own expertise, these biomarkers will truly improve the lives of cats and dogs. That's just one way we're working towards our Mars Petcare purpose: A Better World for Pets.
***
This article was originally published on LinkedIn.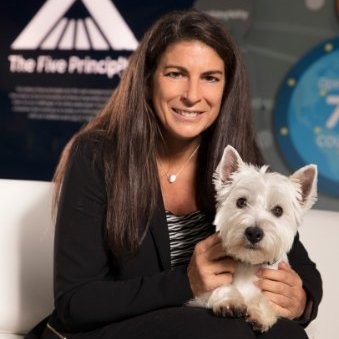 Rena Crumplen is the Global Vice President of Research and Development, Petcare at Mars
Get connected with Rena: